Reporting – How Do I Know Who is Using DXS?
Author: Steven Bauer
Date: 14/06/2021

DXS BestPathway provides a secure, online reporting portal that hosts a suite of reports showing who is using the system, what they are using it for, and how often. Reports are available at practice, PCN, Locale, and ICS/ICB level and all have the ability to display individual user level statistics.

Any organisation that procures the DXS BestPathway service is given access to the online report portal that will enable access to usage reports for their local GP practice estate. Naturally, interest is often centred around the usage of local referring patterns, pathway and guideline views, and utilisation. Being able to report on the use of referral forms and letters – both at practice and user level – enables organisations to clearly identify trends, inconsistencies, and impact of pathways delivered. Activity per user role categories is also achievable through the DXS BestPathway reporting module. GPs, locums, nurses, medical secretaries, and administration roles can be identified, split, and benchmarked.

Reports are broadly split into three categories:
Usage of local content (referral templates, referral criteria, care pathways, local guidelines) by practice and by user. These can be split between PCN, Locale, or ICS/ICB where needed.
Usage of the system by specific document. How many times a specific referral form/letter or pathway has been used in a month.
Usage of national content delivered in DXS BestPathway. National patient leaflets, NICE guidance etc. – Who in the local organisation has used what and how often.
All reports are accessible online via the portal, so it can be viewed remotely at any time. Updated monthly, they are available within approximately 10 days after the end of the month, meaning fast statistics showing trends and changes can be acted upon timeously.
Additional reports can be requested and are often used to benchmark localities or practices within a region. Understanding the impacts of local care pathways and guidelines can ensure adaption and ongoing education is agile and quickly changing to the needs of the GP community. Similarly, referral trends and volume reporting can help reduce inappropriate referrals and improve the quality of referring data being sent to providers.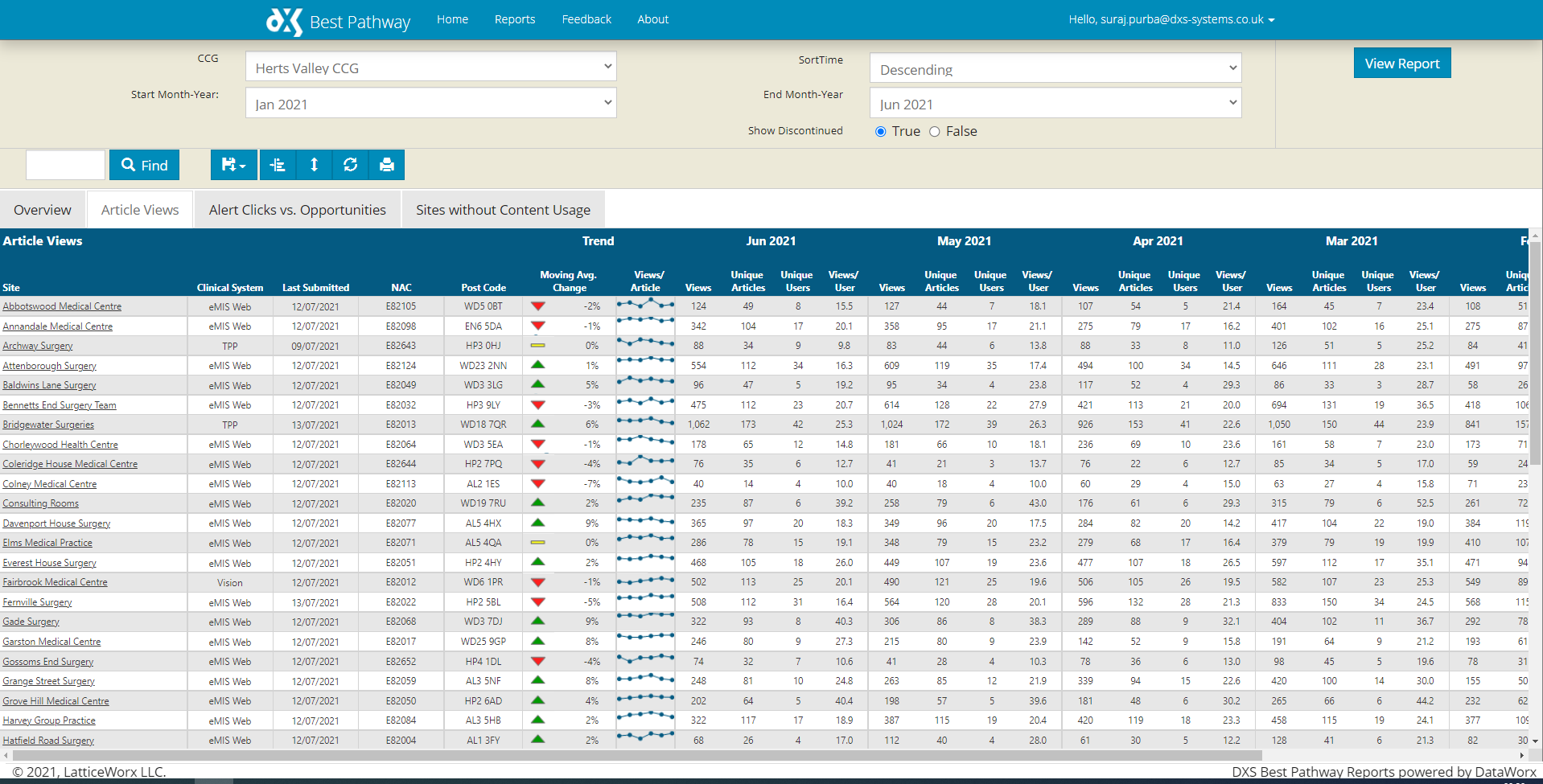 Return to the previous page